Fond farewells and ridiculous roulettes
One of the hardest things about being an FC Nordsjaelland fan is acknowledging and accepting the fact that developing some of the leagues finest players is coupled with the harsh reality of letting them further their careers away from Farum. You can't begrudge the players the opportunity to ply their trade at a higher level but it certainly stings watching a team, starting to show the potential to challenge for silverware, lose some of its key players. And despite watching Anders Christiansen, Uffe Bech, Emre Mor and a few others leave over the last few years, I am still not fully desensitised to what feels like premature farewells. So, although not unexpected, it's with a heavy heart that the latest additions to the list are Marcus Ingvartsen, who heads for Genk, and Celta Vigo bound Stan Lobotka. It goes without saying they will not be easy men to replace. You simply don't find a 24 goal striker or international class midfielder easily or cheaply. That in itself is where the club and their coaches deserve enormous credit. Transforming two young prospects into €5m players should not be underestimated. Even with all the natural talent they have, there are no guarantees. Otherwise every club in Europe would be doing it. It's something Nordsjaelland take great pride in and there's no signs of it stopping.
Whilst no new faces have arrived thus far, two of the most important signings of the summer have been contract renewals for Mads 'Mini' Pedersen and the hugely impressive Mathias Jensen. The latter is probably the best place to start when it comes to shouldering more of the responsibility and addressing the gap left by Stan Lobotka. As a midfield partnership, they were a major factor in our improved form and push for the playoffs last season. Both capable of the 'ugly' side of the game in terms of breaking up play as they were in the final third. For Stano, if you needed evidence over and above his back-to-back 'Player of the Year' awards, his man-of-the-match performances for Slovakia at the U21 European Championships or just use of your own eyes every week then the radar chart below should speak volumes.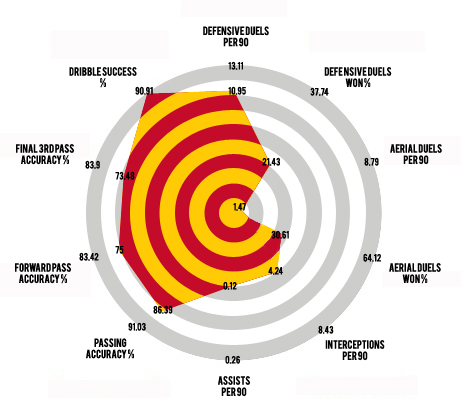 Whilst Stano still performs admirably when it comes to assists for all DM/CM in Superliga for season 16/17, it is the second assist i.e. the 'assist of the assist' where he excels. Think about all those Marcus Ingvartsen tap-ins from 'Mini' or Asante cutbacks. Who played the defence splitting through ball to the assister? More often than not, it was Lobotka. His contribution of 0.43 second assists per 90mins is the highest in the Nordsjaelland team by a considerable distance. Added together with his assists per 90mins, he was directly involved in the creation of a Nordsjaelland goal more than once every other game (0.66 per 90mins). Impressive. The next highest? Mathias Jensen with 0.52 per 90mins combined (0.29 assists, 0.23 second assists). Quite extraordinary for a 21 year old with less than professional 25 games to his name hence why he appears to be the outstanding internal candidate to 'replace' Lobotka. After his performance on Matchday 1 at OB, it looks like he's up for the challenge. That roulette. Casper Nielsen is still looking for him.
With regards to Ingvartsen, you have to go back to Morten Nordstrand in 2007 to find a Nordsjaelland striker so heavily relied upon for goals in one season (18). In the ten years that have followed, the clubs top scorer struggled to reach double figures each year, perhaps with the notable exception of all-time top scorer Martin Bernburg, making Ingvartsen's Superliga best tally of 24 goals even more remarkable. That means, unless the club make a big splash in the transfer window for a proven goal scorer, increased contributions are needed from elsewhere.
The safe bet would be banking on at least 10-15 goals from Emiliano Marcondes…assuming he is still pulling on an FCN shirt every week. (Anywhere but Brondby, Emiliano). I make no secret of our love of Emiliano, like most FCN fans, but as per my previous blog I think he's best suited in a supporting role, taking some of the pressure off the 'number 9' rather than spearheading the attack himself. The stats tend to back that up too. Whilst, his 0.58 goals per 90mins is almost identical to Ingvartsen, his chance conversion rate falls way short (17% to 29%).
Despite him opening Nordsjaelland's Superliga account for 17/18 last night, history would suggest Ernest Asante is more of a creator of goals than someone who you can count on for a big tally. His overall input is often overlooked in my opinion. His 0.49 assists per 90mins was the best in Superliga last season for anyone who had regular match time but yet he found himself out of the team more often in the Spring than he had in the Summer. Mainly down to the tweak in system from 4-3-3 to more of a 3-4-3 and an improved Godsway Donyoh. We certainly need his progression and subsequent goal return to continue. Like Asante though, in my opinion, he is more valuable as one of the wide attackers rather than be too heavily relied upon to be the main goal threat.
Besides that? A resurgence of Tobias Mikkelsen or speedy development of Jakob Johansson are a big ask.
So with all that in mind, it's certainly an area of the park I'd like to see strengthened before the window closes at the end of August.
Finally, and I'm sure I speak for all the boys at FCN Glasgow when I say a sincere 'Tak' and 'Held og lykke' to both Stano and Marcus. It has been an absolute pleasure watching their development over there last few years and I fully believe they will be a huge success in the future.
Vi er FC Nordsjælland.