The comeback kids and a sense of perspective
A glance at the Superliga title odds will tell you that Nordsjælland are no favourites. In the eyes of the bookmakers, reigning champions Copenhagen are nailed on to retain their crown. You know, the Copenhagen who are currently sitting 5th, ahead of newly promoted Hobro on goal difference. But the reality is, come June, they probably won't be far away.
Expectations are a funny thing in football. Rewind to the middle of July when we were reluctantly watching first team players leave Farum for pastures new and wondering just what we could realistically expect from the 17/18 season. And these were not just any players. Our captain. Our back-to-back 'Player of the Year'. The club and Superliga's top goal scorer. Almost the entire spine of our team within a few weeks of each other. That's a big rebuild job for any team. All the excuses were there to accept a backwards step this season and I think even the most optimistic fan would have been delighted with a repeat performance of the 16/17 season and securing a place in the Top 6 this year.
But so far, the team have shaken off any such concerns as they proudly sit on top of the Superliga. Points-wise the current team are TWELVE points better off than last years, more than double, at this stage of the respective seasons. Quite remarkable.
We're approaching the two year anniversary of being reunited with Kasper Hjulmand and during his second tenure the club has developed an admirable resilience to set backs which has led to us being referred to by many inside and outside the club, as the 'Comeback Kids'. It is an overused football cliché for sure, but it couldn't be more fitting to this group of players.
Sunday's magnificent ten minute turnaround at Jysk Park was no one off. In fact, of the 11 games played so far, we've fell behind in 7 of them. But this team doesn't know when they are beaten. Over the last calendar year, we have amassed a total of 30 points from losing positions. To put that into context, the next closest in the Superliga in the same time span is Brondby with 16 points.
Date
Opponent
Deficit
FT Score
Points gained from losing position
30/09/16
Silkeborg (A)
2-1 down after 67mins
2-2
1
19/11/16
AGF (H)
1-0 down after 3mins
3-2
3
30/11/16
AC Horsens (H)
1-0 down after 30mins
2-1
3
05/03/17
Brondby (A)
1-0 down after 12mins
3-2
3
09/04/17
Copenhagen (A)
1-0 down after 54mins
1-1
1
14/04/17
SønderjyskE (A)
1-0 down after 8mins
4-1
3
28/05/17
Brondby (A)
1-0 down after 9mins
2-1
3
23/07/17
Brondby (H)
1-0 down after 45mins
3-2
3
30/07/17
AAB (H)
1-0 down after 25mins
3-2
3
06/08/17
Lyngby (A)
1-0 down after 9mins
4-1
3
08/09/17
AC Horsens (A)
1-0 down after 61mins
2-1 down after 81mins
2-2
1
01/10/17
Silkeborg (A)
2-0 down after 52mins
4-2
3
Personally speaking, I think there is a different mind-set amongst our squad these days. There's a real character and self belief about this club in the last 12 months that I haven't personally witnessed before. Not so long ago, picking up a point at a tough away venue, having been under pressure for the majority of the game would have been considered a real positive. But as I was in mid-celebration of Emiliano Marcondes 90th minute equaliser at Horsens, I noticed there were muted reactions on the pitch. Emiliano's instant reaction was to get the ball back to the centre circle. He wasn't settling for the point, he wanted all three. The same again at Silkeborg. Mathias Jensen barely cracks a smile after his equaliser and Emiliano immediately retrieves the ball. Can you tell how many times I've watched Sunday's highlights back?
Marcondes has been a figurehead of everything that has been good about FCN this season. In a time where we needed everyone to contribute more in the final third due to the Marcus Ingvartsen shaped hole up front, he has delivered. Leading from the front. I strongly suspect those questioning whether he would remain committed to the cause in the months prior to him leaving for Brentford in January will be backtracking at the speed of Ernest Asante when it dawns on them what we will be missing without him. I'll just leave this radar chart here...
Emiliano Marcondes 16/17 and 17/18 Radar Comparison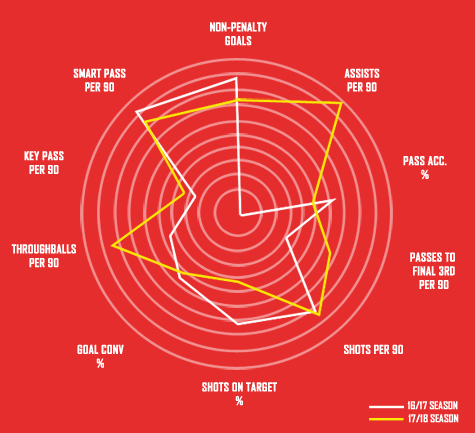 Whilst it's great to set the bar high and bask in the glory of a great start to the season, it's important to keep our expectations in check when things don't go our way. Moments after a painstaking 93rd minute Kees Luijckx equaliser for ten man SonderjyskE hit the back of the net and on the back of a disappointing loss to AGF, emotions were running high and it was easy to overlook all the good that has gone before. As frustrating as those results were, and it was approaching Marvin Pourie levels of frustration, context is important. It doesn't mean we are immune from criticism. Would it be reasonable to expect to win at home to a team with only 1 point away from when they arrived in Farum? Absolutely. Would it be reasonable to expect to hold on to a comfortable 2-0 half time lead at home? Without question. But after the initial frustration subsides, I do have to question the lost sense of perspective.
Luijckx's goal reduced our lead at the top of the table to one point. If you'd offered any objective FCN fan 23 points after the first 11 games, given the loss of considerable experience and ability in the summer, they'd have bitten your hand off. And if I'm sitting in February writing another blog with 23 more points added to our total over the next 11 games then I'll be having another glance at those title odds…
FC Nordsjaelland are a team defying the odds and long may it continue.
Vi er FC Nordsjælland.